Motor Yacht Intensity
This new, groundbreaking 88.8 metre project is a collaboration between Abeking & Rasmussen & Andrew Winch Designs INTENSITY is built on the same proven hull and engineering platform as the recent 82 metre KIBO, offering a quick and economical build package. With German build quality from a world leader in custom yacht building and pedigree design from a multi award winning studio, INTENSITY is ready for purchase for a visionary Owner, ask for best price.
"The striking tri-deck superstructure, incorporating elegant curves and glass wrapping, appears iridescent in the reflection of the water and sunlight. Welcoming, spacious decks provide the perfect environment to entertain guests and relax in the warmth of the sun. I am very proud of INTENSITY'S extraordinary design " says Andrew Winch.
Till von Krause, Sales Director at Abeking & Rasmussen adds: "We are excited to collaborate with Andrew Winch Designs on this groundbreaking project. His design, twinned with the German quality for which our yard is known, will make INTENSITY one of the most incredible yachts built for a generation. Built on a proven platform but with a bespoke design, the Owner will have the comfort of a well-tested yacht with a totally unique exterior."
Builder: Abeking & Rasmussen
Exterior Designer: Winch Design
Abeking & Rasmussen
M/Y Intensity
Built | Refit Length Builder
2017 88.80m (291'4″ft) Abeking & Rasmussen
Guests Beam Naval Architect
14 12.60m (41'4″ft) –
Cabins Draft Interior Designer
7 Cabins – –
Crew Speed Exterior Designer
23 – Winch Design
Works started on the Project 6505 as its steel hull arrived at the German yard Abeking & Rasmussen. Measuring more than 80 metres, this steel hull was floated for the first time last week at the Szczecin shipyard in Poland.  It is believed that it is the hull of 88.8-metre superyacht Project Intensity.
Currently on the market asking €132 million, the 88-metre is set to be delivered in 2020. Designed by Andrew Winch, she will span across a beam of 12 metres and accommodate up to 14 guests. Amenities onboard will include a spa pool forward of the yacht, a unique terrace on top of her upper deck and the use of glass throughout its superstructure.
The yacht's hull and superstructure will now be joined at the German shipyard where works on interior fittings will soon commence. According to sources close to the matter, the 88-meter is expected to be christened Excellence VI by its presumed 
owner, US billionaire Herb Chambers
. The US mogul himself previously stated that he was building an 80m+ yacht at Abeking & Rasmussen.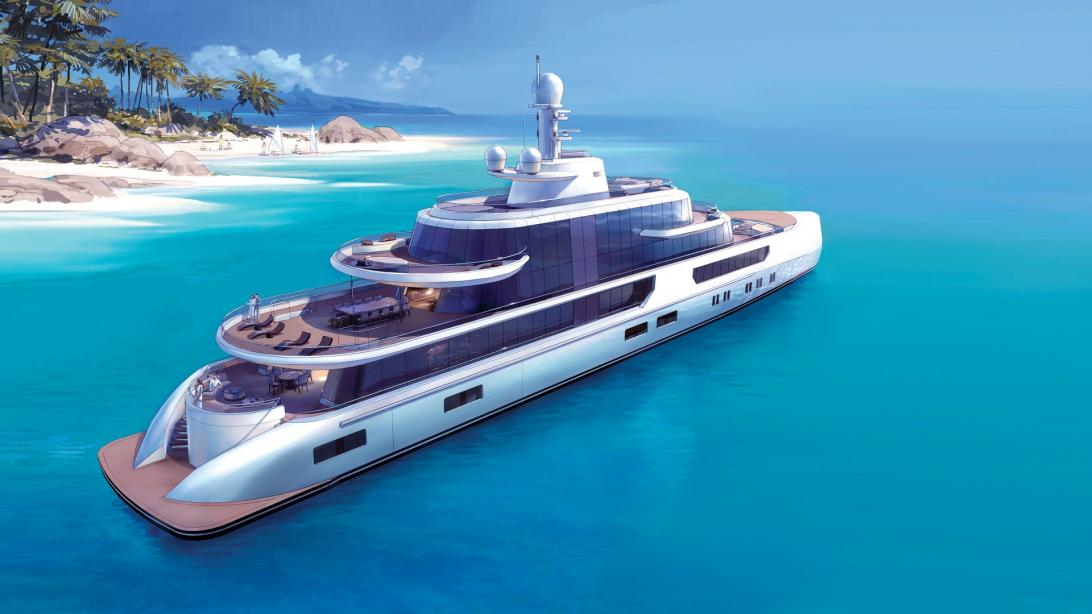 Owner of the Herb Chambers Companies, one of the US's largest automotive dealership groups, the billionaire currently has a 60-meter Abeking & Rasmussen named 
Excellence V
. Intensity would become the 4th yacht built by Chambers at the German shipyard after 
Excellence III
, 
Excellence IV 
and Excellence V.
Should Intensity be sold prior to Chambers taking delivery of the yacht, this would also not be a first. Halfway through the build of the 78m Excellence IV, Chambers sold the yacht to a Russian oligarch, who renamed her to Eminence. "I did well on that one." he told Forbes in an interview. He added his next yacht would be a cross between M/Y A and a more traditional yacht, which would fit Intensity's profile.
Comments
comments